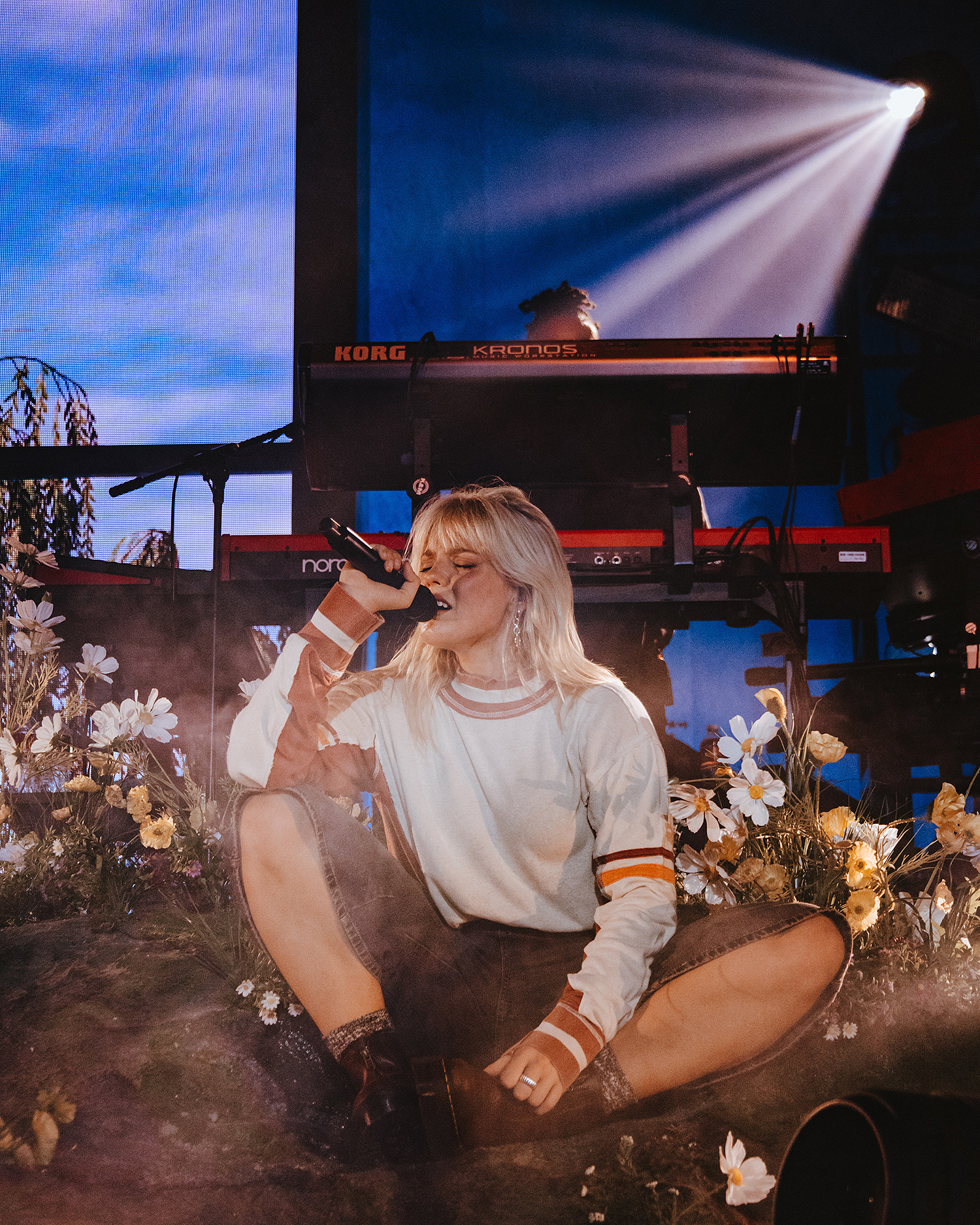 On the evening of September 15th, at Bayou Music Center in Houston, Texas, Reneé Rapp unfolded the first chapter of her "Snow Hard Feelings Tour." The atmosphere was electric as fans adorned themselves in angelic attire, eagerly awaiting a night filled with music, emotion, and pure artistry.
As the stage lights came on, the audience gazed in awe at the transformation of the stage into a lush garden landscape. Faux grass, blooming flowers, and imposing rock formations created an enchanting backdrop, while ever-changing visuals on a rectangular screen added depth and ambiance. A thick veil of fog added to the overall mood, creating an ethereal atmosphere. The band itself was perched atop these rocks, enhancing the overall mystique of the performance.
Reneé Rapp's entrance to the stage was really exciting. You could feel her enthusiasm, and it was obvious she was just as thrilled to perform as her fans were to see her. Throughout the concert, Reneé's interactions with the audience felt genuine and warm-hearted. She took time to acknowledge fans' outfits and signs and even recognized those she had met before. This connection between artist and audience created an intimate atmosphere that made every fan feel seen and appreciated.
One of the most intriguing aspects of the concert was the way Reneé structured her setlist around the seasons of the year, each section featuring songs that matched the corresponding season's mood.
Spring:
The concert bloomed with energy as Renee performed
Talk Too Much
, a celebration of new beginnings.
Poison Poison
 carried a steady beat, while
Willow
 provided a visually stunning interlude.
Summer:
The crowd was electrified by
Colorado
, a perfect summer anthem.
Pretty Girls
 had everyone singing along, while
23
 provided a mesmerizing interlude.
Tummy Hurts
 had fans belting out funny and relatable lyrics.
Fall:
The concert took a reflective turn with
I Hate Boston
, a song that started slowly and crescendoed powerfully.
So What Now
 captured the essence of autumn's beauty, and
Tattoos
 held a special place in both Reneé's heart and the fans'.
Too Well
 was a song that everyone in the crowd knew and was therefore one of the loudest of the night.
Winter:
The atmosphere turned introspective as
Gemini Moon
 evoked the calm beauty of winter's night sky.
The Wedding Song 
enchanted with hauntingly beautiful melodies, and
I Wish
 became a raw and emotional experience to hear and see.
In the Kitchen
 showcased Reneé's vocal power, leaving the audience fascinated. The concert reached its peak with
Snow Angel
, a masterpiece where Reneé's vocal talent shone brightest, symbolizing rebirth after a personal ordeal. It was performed with extraordinary live intensity, accentuated by Reneé's costume change into an all-white ensemble.
In conclusion, Reneé Rapp's "Snow Hard Feelings Tour" opener in Houston was an amazing night filled with music that explored the seasons of the year in a unique way. Her extraordinary vocal talent and genuine connection with her dedicated fanbase made it a night to remember. Seeing Reneé perform live, it's impossible not to envision the incredible journey that lies ahead for her. With her name now reverberating in the industry, it's evident that she's about to skyrocket in her career, destined to become an even bigger artist in the future, leaving us fans thrilled to see her success.
⎯