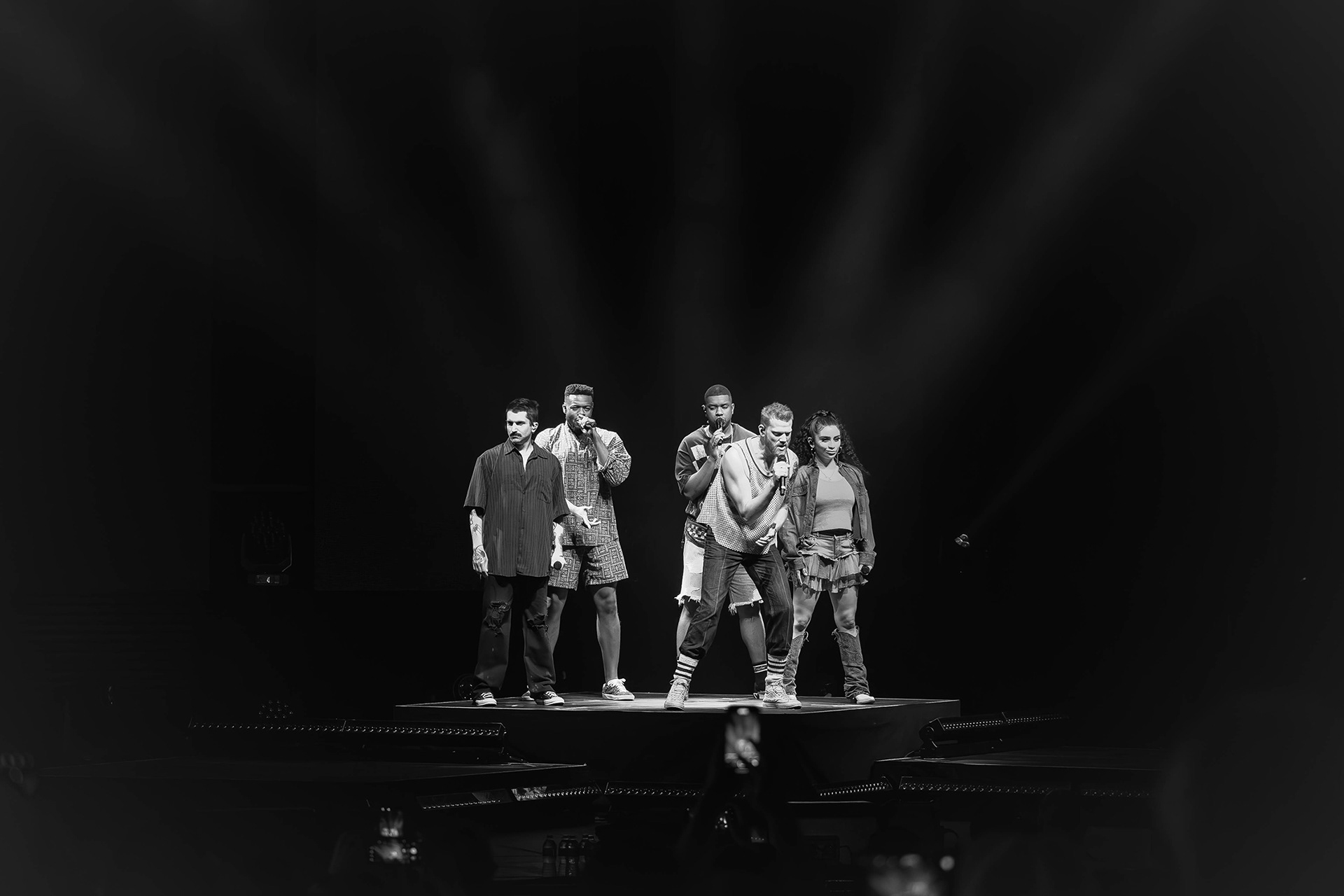 I had the pleasure of watching Pentatonix perform for the very first time at the Cynthia Woods Mitchell Pavilion for their World Tour on September 7, 2023. I've been following them for over a decade now so as a retired choir kid, this was definitely a treat. Pentatonix is a five member acapella group that originated in Arlington, Texas in 2011 by three of the current members, Scott Hoying, Mitch Grassi, and Kirstin Maldonado, when they were in high school choir together. They soon added Kevin Olusola along with former member, Avi Kaplan, and the group ended up competing and winning a singing competition called
The Sing-Off
, all within that same year of starting the group. When Avi left the group in 2017, they brought on Matt Sallee and the five musicians have been recording music and performing around the world together ever since.
They opened up the show with
Radioactive
 by Imagine Dragons, one of their popular covers from 2013 with renowned violinist, Lindsey Stirling. I vividly remember watching this video when it first came out in middle school during our choir period. Our choir director pulled up the video as a little show and tell piece since they were still pretty new at the time. Then fast forward to the end of that school year, this exact song also ended up being our opener for our big choir showcase. Safe to say that the nostalgia was very real that night, as I was being brought back to my roots and why I got into music in the first place – choir. After the first few songs, each of the members introduced themselves along with their voice part, which I thought was really neat. I loved how they truly embraced their choral background throughout the entire show to keep the art form alive.
What I admired so much about their performance is how interactive it was. In the middle of the show, Scott Hoying split the crowd into three different voice parts to the song
Fix You
 by Coldplay for a TikTok video. They've created an interactive video at every single show on this tour so far with a different song/concept, which acts as a little keepsake or souvenir, if you will, for the group and the fans to remember the show by. We sang through a few takes with each section having their own harmony and it felt like one big choir. I loved how everyone participated, you could hear every part so distinctly and it definitely felt like I was back at high school choir rehearsals. 
Towards the end of the night, Kevin and Matt did a sing-along with the crowd to songs that everyone knew, with classics such as
Sweet Caroline
 by Neil Diamond,
I Want It That Way
 by The Backstreet Boys,
Livin' On A Prayer
 by Bon Jovi, and many others. I was shocked that a large percentage of their audience was an older demographic so the songs that they chose were perfect for people of all ages. It definitely made everyone feel included. 
And lastly, their closing song was
Hallelujah
 by Leonard Cohen, another popular cover of theirs and a classic in the choral world. At the very end of the piece, they asked us to sing yet another harmony on top of their melody. It was a great way to close the night for all singers and musicians alike to not only witness great choral and vocal artistry, but to be a part of it themselves.
⎯