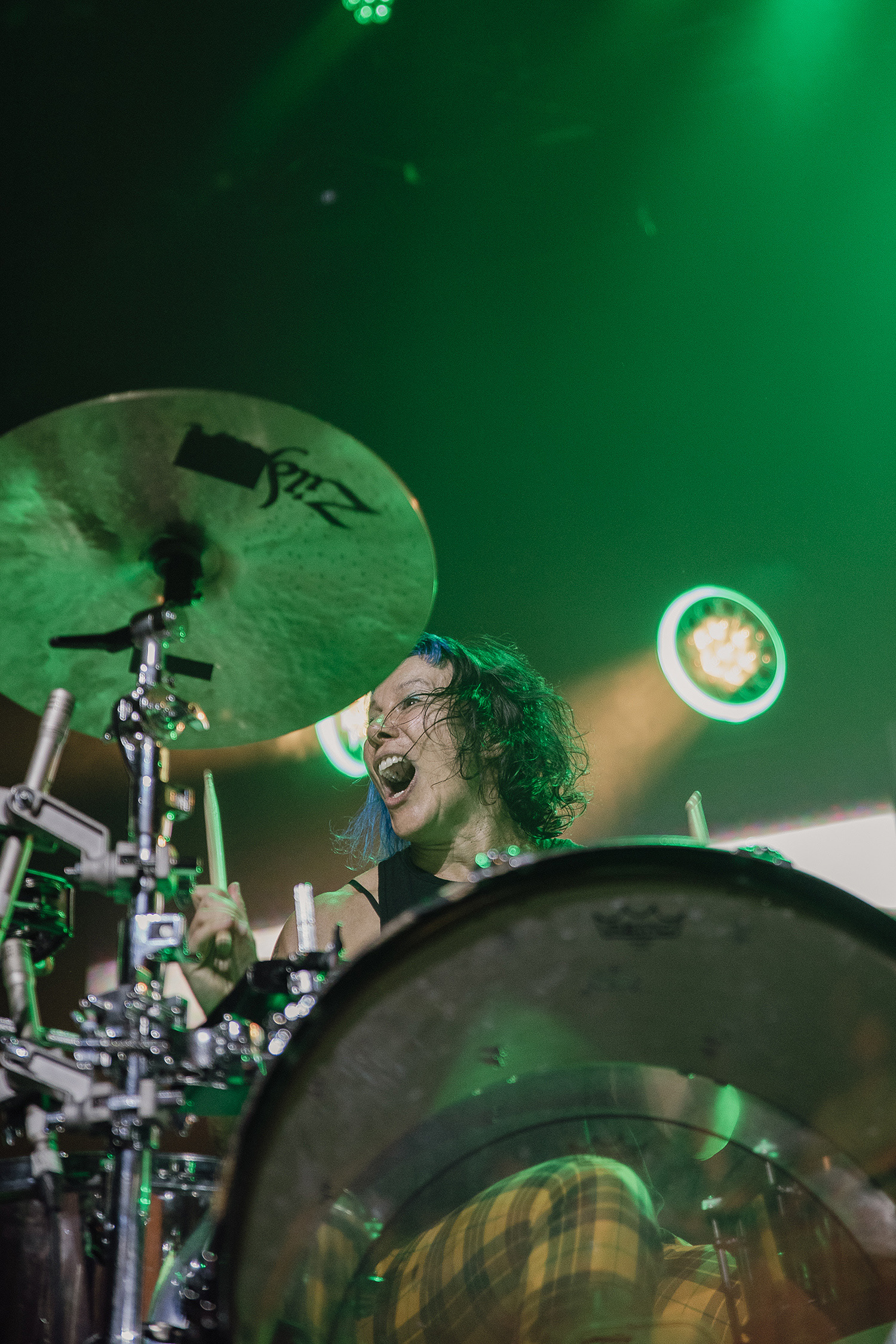 "
IF YOU'VE SEEN MATT AND KIM YOU KNOW THESE SHOWS CONTAIN ADULT CONTENT AND ADULT LANGUAGE AND MOSH PITS AND CROWD SURFING AND IT'S HIGHLY SUGGESTED YOU DON'T BRING UR KIDS. IT'S GONNA GET WEIRD IN THERE AND IT'S GONNA BE GREAT
." -
mattandkim.com
I just want to start this off by saying that I had no idea what to expect from this show, but by the end of it, I was honestly at a loss for words. This was my first time seeing Matt and Kim live, and I was truly blown away by everything. From their crowd interactions to the execution of each song, you can tell that they put a lot of effort into this for fans. The New York duo is known for their energetic performances, and they proved it true at their stop in Houston on Wednesday night.
The crowd cheered as the lights came up and Matt Johnson walked to the front of the stage carrying a Matt and Kim t-shirt, with Kim Schifino dancing her way up behind him. Matt threw the shirt into the crowd and made his way to the keyboard next to Kim and her drums. They started off with
Block After Block
from their 2010 album,
Sidewalks
. Not even one full song in, and we had the first of many crowd surfers of the night. It didn't take long for the fans to realize that the crazier they got, the crazier Matt and Kim got too. The security definitely had their work cut out for them for the rest of the show.
They kept it going with songs from their self-titled album and
Lightning
. Then, back to 2010, with the first song I ever heard,
Cameras
. They played each song with just as much or even more energy than the last. It's kind of crazy to believe that they do this every night. The show continued, and we heard more recent songs like
Steal A Yellow Cab
and some throwbacks like
Good Ol' Fashion Nightmare
. They even threw in a Harry Styles cover of
As It Was
and absolutely crushed it.
However, the music was only half of the show. It's what happened in between songs that made the night unforgettable, especially for the people they interacted with. Kim awarded crowd surfers with medals and even crowd-surfed herself. The audience carried her all the way to the bar to grab a beer and all the way back, safe and sound. But sometimes, these stunts have consequences. Kim mentioned that she used to have the audience hold her feet while she danced, but after a couple of sprains, she couldn't do it anymore. Instead, she recruited a fan from the crowd to do the honors, who happily obliged. If Kim had sprained an ankle that night, we would've missed out on her killer dance moves.
After playing
Daylight
, they walked off stage and made their way up to the balcony for the encore. They thanked the crowd, and Matt slowed things down with
Happy If You're Happy
. Kim sang along, throwing in her own ad libs after some parts that had everyone smiling and laughing. They came back to the stage and closed out the show with
Let's Go
, letting the crowd go wild one last time.
One of the best things about this show was that it didn't feel like a concert, because it wasn't. This was a variety show with singing, dancing, games, and so much more. It felt like we were at one giant party, and Matt and Kim just so happened to be playing this rager. Without spoiling it for those who have never been, let's just say that the commitment is real, and I hope that they have enough balloons to make it through the rest of the tour.
⎯