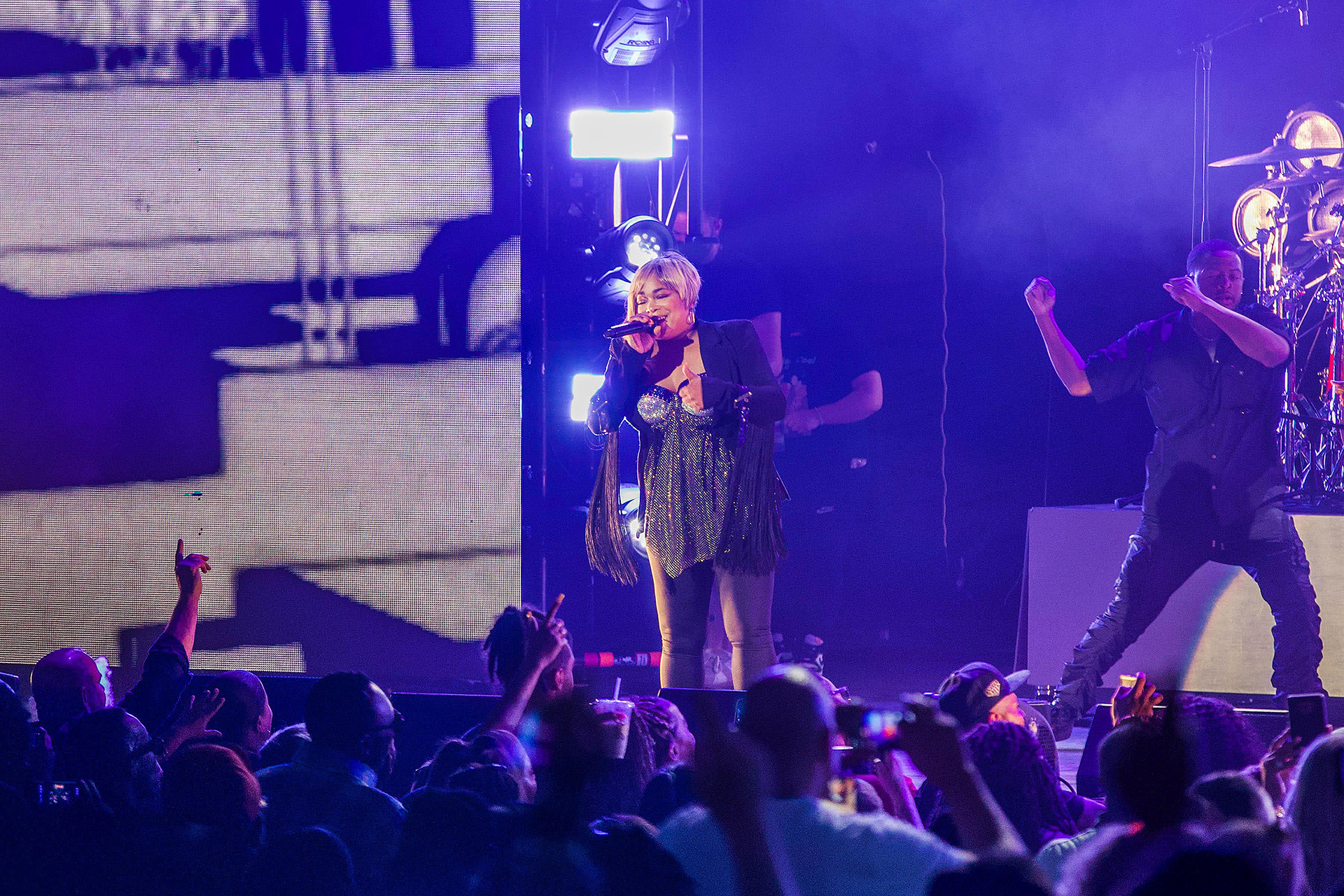 The Hot Summer Nights Tour brought an incredible lineup to the stage at the Cynthia Woods Mitchell Pavilion, and the star-studded event certainly lived up to its name. With performances by TLC, Shaggy, En Vogue, and Sean Kingston, the concert was an unforgettable experience that brought the heat to Houston.
Kicking off the show was Sean Kingston, who came out with his hype man to set the energy for the evening. The crowd was immediately captivated as he performed throwbacks that had everyone jumping and grooving. Kingston's set culminated with his hit song
Fire Burning
, leaving the audience on fire and ready for more.
En Vogue took the stage next, proving that their longevity in the music industry is well-deserved. Having started in the late '80s, the group still had an incredible presence over 30 years later. Sporting matching orange outfits, Terry Ellis, Rhona Bennett, and Cindy Herron made a statement as they entered the stage. Houston showed immense love for their hometown girl, Terry Ellis, and she expressed her gratitude for the warm welcome. The audience was mesmerized by their flawless vocals and harmonies, which sounded just like their beloved records. Their set was a blend of fun covers, including Michael Jackson's
Working Day and Night
 and Sheila E.'s
Glamorous Life
. En Vogue closed their set with breathtaking performances of
Don't Let Go
 and
Hold On
, leaving the crowd in awe.
The anticipation grew as TLC took the stage as the third act of the night. Despite now being a duo with Chilli and T-Boz, they proved why they are Grammy award winners. Accompanied by male backup dancers, the group showcased their incredible talent. T-Boz apologized for not wearing shoes due to a swollen foot caused by an unfortunate incident earlier, but like a true professional, she powered through the performance.
Dressed in all black, including the backup dancers, TLC engaged in choreography, particularly during the late Left Eye's parts of the songs, reminding everyone of their iconic music videos. T-Boz took a moment to reflect on the continued relevance of their song
Unpretty
, emphasizing its timeless message of self-acceptance and not comparing oneself to others. The crowd sang in perfect harmony, word-for-word, as TLC performed their hit songs like
No Scrubs
 and
Waterfalls
. The duo's stage presence was electrifying, leaving the audience in a state of pure musical bliss.
Closing out the night was the one and only Shaggy, who set the stage on fire with his infectious energy. Shaggy's dance moves were on full display, and he had everyone on their feet, joining in on the fun. With his lesson on whining, there was no excuse for anyone not to dance. Shaggy's set was a nostalgic trip down memory lane as he performed his hit songs like 
It Wasn't Me
, 
Angel
, and
Bombastic
. Throughout his performance, Shaggy showcased his undeniable stage presence and engaged in fantastic crowd interaction, leaving everyone in awe of his talents.
The Hot Summer Nights Tour featuring TLC, Shaggy, En Vogue, and Sean Kingston was an unforgettable night of music and nostalgia. Each artist brought their unique style and charisma, leaving the audience with lasting memories of an electrifying concert experience. The Cynthia Woods Mitchell Pavilion was the perfect venue for this star-studded lineup, and the crowd couldn't have asked for a better way to spend a hot summer night.
⎯