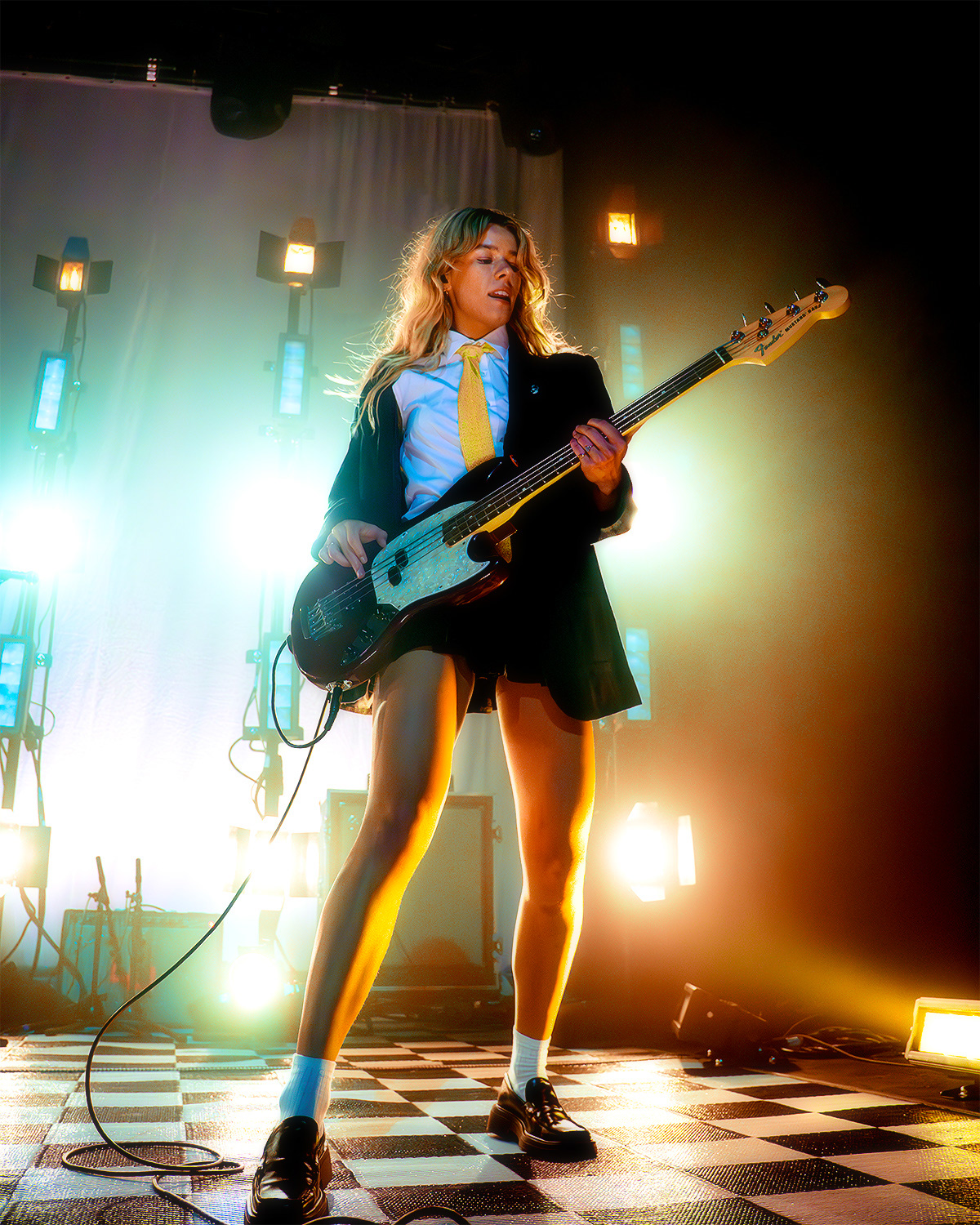 The Aces set the stage on fire at White Oak Music Hall on October 1, 2023, with an electrifying performance for their Houston fans on the 
I've Loved You For So Long
world tour. Being a dedicated fan for over five years now, this was my second time seeing the band play a headline show in my hometown, and let me tell you, they just keep getting better. Every. Time. 
The Utah-based indie pop sensation consists of Katie Henderson (lead guitar), McKenna Petty (bass), Alisa Ramirez (drums), and Cristal Ramirez (lead vocals), and they have all been in the band together since their early teenage years. They've released three studio albums since being signed to Red Bull Records in 2016, their most recent being 
I've Loved You For So Long
. The record is filled with luscious guitar riffs, punchy melodies, and extraordinary lyricism that translates perfectly into an electric show.
The gals made their grand entrance to the stage, suited in all black and white attire and kicking the show off with 
Always Get This Way
. From the very first chord, it was evident that we were in for a night of captivating sounds. With
I've Loved You For So Long
 filling up the majority of the songs played, the band skillfully put together a setlist that seamlessly blended new tracks with fan favorites from their earlier albums Under My Influence and When My Heart Felt Volcanic. Some of my favorites from
ILYFSL
included 
Attention
 and
Younger
, both of which transported the audience to a dreamy, indie soundscape.
Suburban Blues
was most definitely the standout of the night. The album as a whole really puts a spotlight on Cristal reconnecting with her younger self as a queer teenager growing up in conservative Utah, and
Suburban Blues
 perfectly captures the feeling of being stuck. It was also apparent that the song resonated deeply with fans. When the lyrics "
Everything I love, I'm told I shouldn't touch, 'cause good girls love Jesus, not that girl from Phoenix
" were sung, the audience screamed every word back at the top of their lungs.
I feel the need to also mention that Cristal's vocals have only gotten stronger over time. Her voice effortlessly transitioned between rock-inspired songs like
Person
and sweet love ballads like
I've Loved You For So Long
, perfectly conveying the emotional depth of their songs. Katie's mesmerizing guitar riffs and McKenna's bass lines added an extra layer of excitement to the night, while Alisa's drumming kept the energy high and the crowd moving. The girls' chemistry on stage is undeniable, and they laid out all of their passion for music on the White Oak stage.
Other throwback tracks like 
Kelly
 and
Volcanic Love
 sent fans back in time to the band's first two albums, both of which are alt-pop perfection. The night came to a close with
Stuck
, which is arguably the most fun and energetic song in their discography. It was the perfect send-off to a show that truly displayed their growth as musicians and the depth of their songwriting. The Aces' I've Loved You For So Long world tour is a must-see for new and long-time fans, and it's a beautiful reminder of the power of music that touches your heart and soul.
⎯